Contemplation Building for Peace
Based on inspirations dating back more than a decade, a harmonious place of inner contemplation and rest, a symbol of peace has been built in 2018 and 2019.

A publicly accessible, supra-denominational building in the shape of a chapel,
located above the hamlet of Salzgebe in Unterbäch (Canton of Valais). Pictures


Dedicated to peace - and to all who serve peace.

Representing the many who served peace, former employees of the International Committee of the Red Cross (ICRC), who gave their life while serving peace :
·     The Iraqi Zoheir Abdallah Ahmad Al-Sheikhly, who was killed by a bomb while at work as a reliable guard for the ICRC in Baghdad, on 27 October 2003

·     The Cambodian Kiew Sambath, who was shot for a robbery of his motorbike, while purchasing for the ICRC at the market in Phnom Penh on 11 April 1994

·     The Spanish nurse and Delegate Fernanda Calado, who was murdered in Chechnya
on 17 December 1996, while asleep


To the honor of the deceased - to the living as a reminder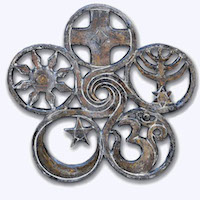 Legal Situation
The building is a project of the Swiss nonprofit association PRO PAX.

Supporters
The project won the support religious leaders of Muslim, Hindu and Christian faith, as well as of libertines:
·     Catholic Christian parish of Unterbäch (October 2007 and February 2016)
·     Memeti Mustafa,  Muslim Association Bern (February 2016)
·     Bhante Anuruddha,  Intercultural Buddhist Association, Bern (January 2016)
·     Sasikumar Tharmalingam,  Hindu Community Saivanerikoodam, Bern (2016)
·     Henri Mugier,        Jewish Parish, Bern (2019)

Former ICRC President Mr. Cornelio Sommaruga,
present ICRC President Mr. Peter Maurer and Director General Yves Daccord,
as well as the ICRC Alumni organization have been following the project.

The inauguration took place on September 14, 2019 in presence of the above mentioned representants of different religions, plus Reverend Luther of the Protestant Parish Visp and ICRC Alumni President Tony Burgener.
Information (in German)
For general information about the project kindly refer to www.salzgebe.org/kapelle

For pictures of the building: www.salzgebe.org/kapelle/galerie
How to get there.

For any further information kindly contact:
Othmar ULRICH
President Association PRO PAX
Bondelistr. 30, CH-3084 Wabern

othmar.ulrich@hotmail.com
Mobile: +41 79 812 21 20

Donations
Verein PRO PAX
CH-3006 Bern
Postal account            61- 482450-1
IBAN CH84 0900 0000 6148 2450 1

Donations as of CHF 100.- will be confirmed by a letter,
donations as of CHF 1'000.- may be mentioned on the web site,
donations as of CHF 10'000.- on a plate of honor at the building.
The tax offices of the cantons of Bern, Valais and Solothurn have confirmed, that donations to PRO PAX are tax deductible. Other cantons do normally follow that practice.